The first-ever Infrastructure Imperative conference will take place this November 13-15 in Cleveland, OH, USA, and is being sponsored by ACI. This event focuses on the commercial construction and public works industries and was created to foster innovation in the design and construction of lasting infrastructure.
Michael Morrison, ACI Manager of Certification Program Development, and Anne Ellis, ACI Past President, will be speaking at the event. Morrison will discuss ACI's certification programs for installers and inspectors, including programs created to ensure critical adhesive anchor systems perform as designed. Morrison will also review ACI's efforts to inform the industry of several safety-related certification programs.
"ACI Certification is improving the industry by providing the knowledge needed to use concrete effectively to meet the demands of a changing world," stated Morrison. "It is imperative that concrete construction be performed up to codes and standards that ensure safe construction, sustainable use, and quality products."
The importance of America's infrastructure goes hand in hand with the importance of ACI certification. Attendees of Infrastructure Imperative can use promo code: MORRISONVIP to receive 50% off conference registration. The concrete construction industry is demanding quality certification programs and acknowledging the importance of working with skilled individuals; ACI is helping the concrete industry meet those needs.
Learn more at infrastructureimperative.com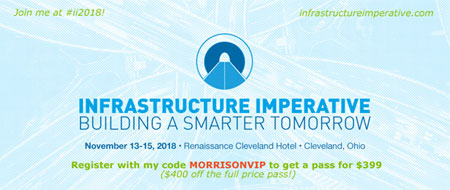 .